It saddens me that Stephen Colbert, a man I once compared on this blog to Pablo Picasso and Bob Dylan, will no longer be the voice of Prof. Impossible on The Venture Brothers. From
jacksonpublick:
One sour note from the past month (aside from my car getting hit yet again) is that Mr. Stephen Colbert has decided not to reprise his role as Professor Impossible this season, for reasons which probably have something to do with him being all super-famous, super-busy, and no longer in need of a few hundred bucks here and there. We figured this would happen eventually, considering his monumental success in the years since our first season, but we held out hope that the WGA strike would leave him with enough bored free time on his hands that he'd have a go at it. But after getting shuffled around from his assistant to his assistant's assistant to his agent to his manager, one of them finally shot us an email saying: "Stephen has neither the time nor the interest in participating in your project."

Was the "nor the interest" really necessary? I would have bought the "time" part without question, but man...you gotta kick a guy when he's down like that? Well maybe I'm not interested in your ice cream, mister! Or your book. Unless someone buys it for me for Christmas.
As my wife noted, it's an open question why the assistant who wrote that email didn't add the word "little" before the word "project." (One also wonders if Mr. Colbert's lack of interest in the show applies retroactively to the two seasons he's already recorded. The assistant fails to clarify.) Ah well. Such are the consequences of Mr. Colbert's much deserved success. I realize that the person who wrote the email was probably not quoting Mr. Colbert directly and may very likely have had no idea what The Venture Brothers is. Nevertheless (and no one's unhappier about this than I am) I am left with no choice but to put Mr. Colbert on his own board. Guess what, Prof. Impossible-For-Me-To-Do-Any-More-Cartoons? You're on notice!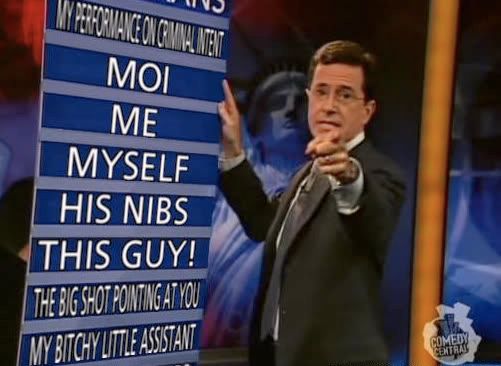 ("On Notice Board" Generator courtesy shipbrook.com.)