By all appearances, Aaron Wider is the chief executive of a flourishing mortgage bank in Garden City, issuing more than $33 million in home loans to buyers across Nassau and Suffolk counties over the past four years.

A closer look at his lending practices, however, reveals that many of these loans relied on faulty appraisals and exaggerated loan applications, leaving behind angry homeowners who are struggling to pay mortgages on overpriced homes.

. . .

Wider's bank, HTFC Corp., is being sued in federal court by two large banks it sold millions of dollars in loans to -- Pennsylvania-based GMAC Bank and a subsidiary, Minnesota-based Residential Funding Company -- which charge in court records that the loans were fraudulent.
Newsday, 11/18/07

The General Motors Corporation reported a 90 percent decline in first-quarter profit today as losses at its finance arm overshadowed the gains from restructuring its automotive operations.

G.M., which fell behind the Toyota Motor Corporation in the first quarter to become the world's second-largest automaker, posted net income of $62 million, or 11 cents a share, compared with $602 million, or $1.06 a share, in the same period a year earlier. It was the company's second consecutive quarterly profit, but the number was weighed down heavily by losses from subprime mortgage loans made by the General Motors Acceptance Corporation.
New York Times, 5/4/07
I'm sure GMAC was shocked --shocked-- to discover that it had purchased mortgages from a dubious broker. Well, they'll show rogue soldiers like Aaron Wider a thing or two. </subprime crisis-Abu Ghraib comparison> But enough prologue. Let's get to the heart of the matter: Mr. Wider's ability to distill the language of the streets to its poetic essence. To some with this gift they give the Pulitzer. Mr. Wider they fine 29 grand. Where's the justice? From the GMAC v. HTFC deposition (excerpted in the sanctions opinion-PDF):


I'm not your fucking bitch.


Don't fuckin' threaten me, asshole.



You want to know what color I wipe my ass with?




Go fuck yourself, Bob.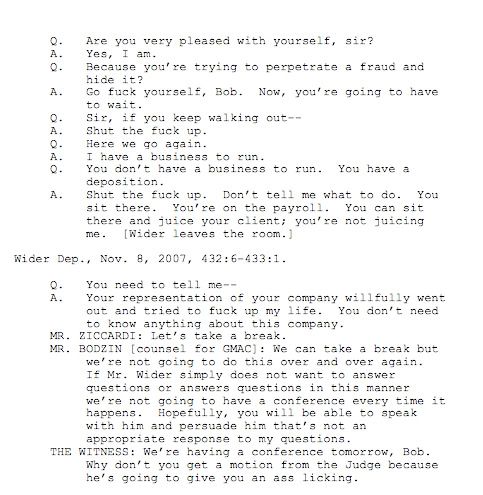 The only difference between you and I is I have a pair of balls and you don't.


Now read it again with these inflections. Am I right, people?

Dig the webpage!